Kenya's President Uhuru Kenyatta has congratulated Donald Trump and defeated candidate Hillary Clinton.
In a statement, he said:
The American people have spoken, and they have spoken clearly. They have chosen Donald Trump as their 45th President.
Kenya congratulates Mr Trump for his victorious campaign, and his main opponent, Mrs Hillary Clinton, for her valiant effort.
The ties that bind Kenya and the United States of America are close and strong. They are old, and based in the values that we hold dear: in democracy, in the rule of law, and in the equality of peoples.
These values remain dear to the peoples of both nations, and so our friendship will endure."
South Africa's president has joined the list of African leaders congratulating Mr Trump on his election as the 45th president of the US:
President Zuma looks forward to working with President-elect Trump to build on the strong relations that exists between SA and USA. #Trump

— South African Gov (@GovernmentZA) November 9, 2016
Egypt's President Abdul Fattah al-Sisi has become the first North African leader to congratulate Mr Trump on his stunning victory in the US presidential election
In a statement, Mr Sisi's office said he wished Mr Trump the best in his new position and invited him to visit Egypt at the earlier opportunity.
Mr Sisi took power in a coup in 2014.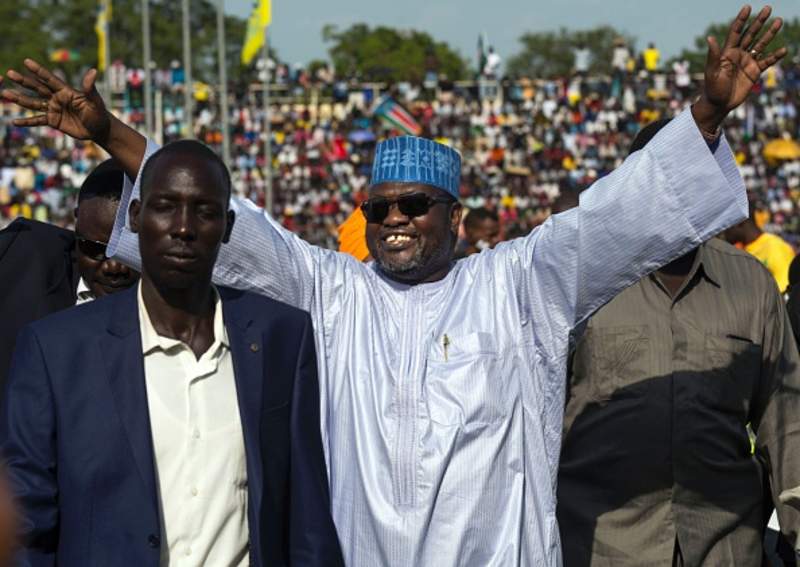 Mr Machar (C) has fled South Sudan because of conflict
South Sudan's sacked Vice-President Riek Machar has welcomed Mr Trump's victory in  the US presidential election, saying on his Facebook page that it will herald the "demise of African dictators" .
Troops loyal to Mr Machar and his rival President Salva Kiir have been involved in heavy fighting in South Sudan, leaving more than a million homeless.
Conflict erupted in 2013 after Mr Kiir accused Mr Machar of plotting a coup, an allegation he denied.
The US was a staunch supporter of South Sudan's independence from Islamic-ruled Sudan in 2011.
Rwanda's President Paul Kagame says he looked forward to work with Mr Trump:
Congratulations to @realDonaldTrump for a well earned victory.Looking fwd to continued good relationship w/ United States&new administration

— Paul Kagame (@PaulKagame) November 9, 2016
Gabon's president Ali Bongo, has also congratulated Mr Trump, calling the US an "ally".
Congratulations to Donald J. Trump, 45th President of the United States, ally of Gabon

— Ali Bongo Ondimba (@PresidentABO) November 9, 2016
Please kindly comment below and share this post on your social media