PHOTOS: Interesting Facts About Col. Gaddafi And His virgin Female Bodyguards Known As "The Amazonian Guard"
Muammar Gaddafi, popularly known as Colonel Gaddafi, had an obsessive interest with female bodyguards. The Libyan ruler was escorted by his bodyguards on his every move.
On account of one of his female bodyguards, it was revealed to the world that Col. Gaddafi's idea of keeping only female bodyguards propagated from the belief to show the world that the female in his country were no less than male members.
Here we give you some quick facts about Col. Gaddafi's virgin female army: –
Col. Gaddafi was always surrounded by three permanent bodyguards. On every trip, they used accompany him. But for a foreign trip, Gaddafi used to take four additional bodyguards who were selected by Gaddafi himself.
They all had to be virgins and were sworn to chastity before becoming official bodyguards. Also, they were made to take an oath that they would give away their lives for Gaddafi's safety.
His official bodyguards were said to never leave Gaddafi's side irrespective of what time of the day it was.
A special training was provided to interested volunteers and those who could resist the tough training were then trained in firearms and martial arts. The final selection was made by Gaddafi himself.
Gaddafi was a strong believer of woman empowerment. He once said "Women should be trained for combat, so that they do not become easy prey for their enemies."
Although the rumours had it that Gaddafi asked for sexual favours from the bodyguards.
Here's a look at the women who became synonymous with Gaddafi's political reign.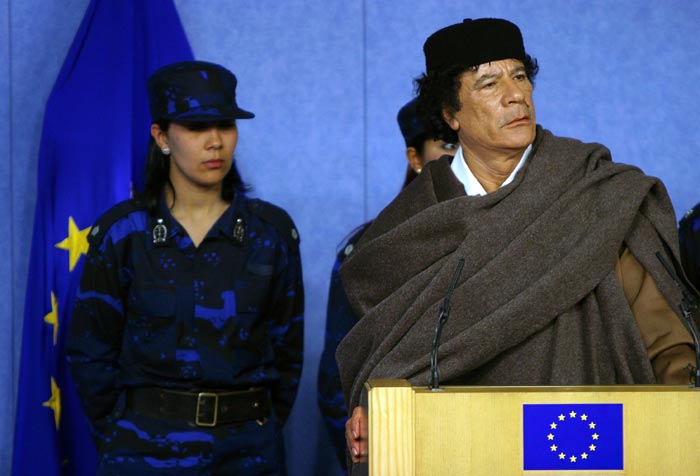 Colonel Gaddafi, protected by his bodyguards, gives a press conference at the end of a bilateral meeting with the chairman of the European Commission in 2004.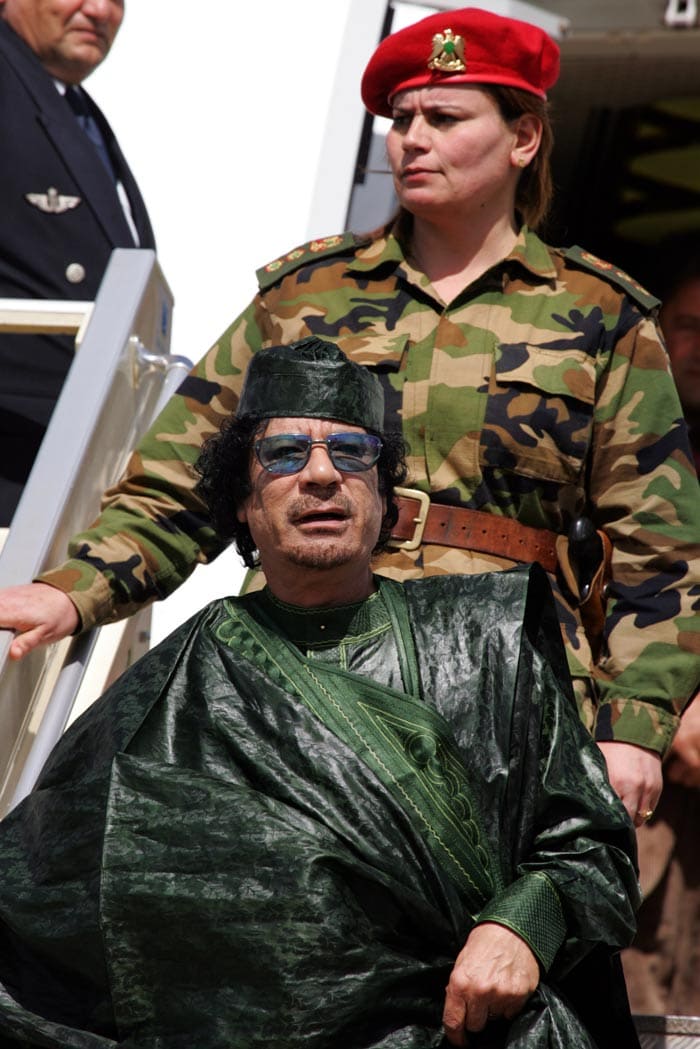 Colonel Gaddafi, escorted by a body guard disembarks at Ougadougou airport on 16 January 2008. (AFP Photo)
President of Ukraine Viktor Yushchenko and Muammar Gaddafi listen to national anthems during a ceremony of the meeting at the Presidential office in Kiev on November 4, 2008. (AFP Photo)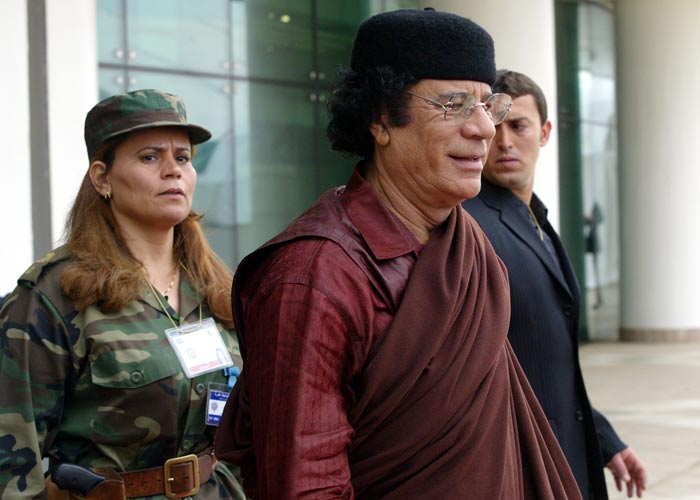 Colonel Gaddafi is followed by his bodyguard as he leaves the closing session of the 17th Arab Summit in Algiers 23 March 2005. (AFP Photo)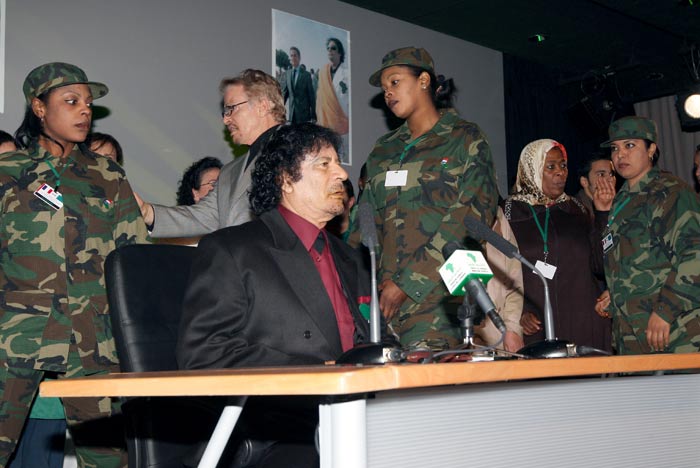 Muammar Gaddafi surrounded by his female bodyguards, attends a meeting with female personalities, 12 December 2007 in Paris. (AFP Photo)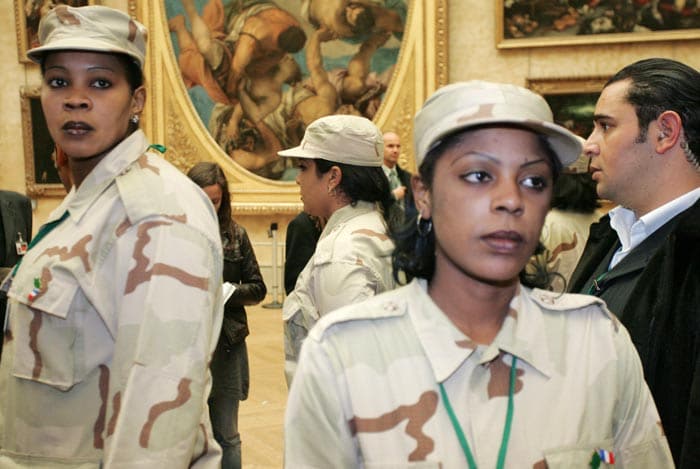 Muammar Gaddafi's female bodyguards, called the "Amazons" are seen during his visit to the Louvre museum. (AFP Photo)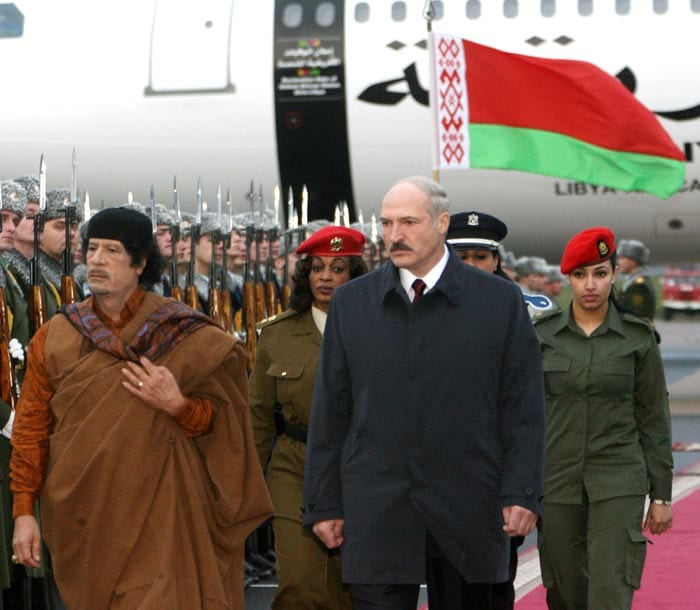 Muammar Gaddafi walks past a Belarus honour guard with Belarus President Alexander Lukashenko (R) upon his arrival in Minsk on November 2, 2008.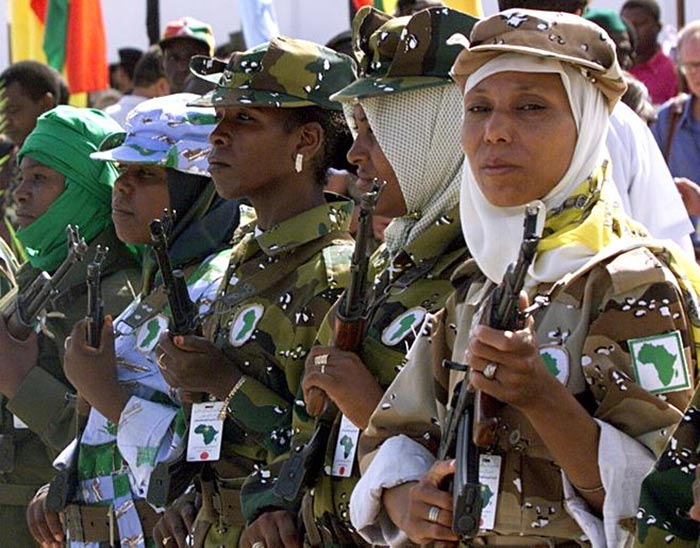 Libyan soldiers, members of the Revolutionary Guard and bodyguards of former Libyan Leader Muammar Gaddafi present arms in a five-hour military parade to mark the 30th anniversary of the Libyan coup d'etat that brought Gaddafi to power. (AFP Photo)
Colonel Muammar Gaddafi, flanked by one of his bodyguards, listens to a speaker at the opening of the fifth extraordinary session of the heads of member states of the Organisation of African Unity. (AFP Photo)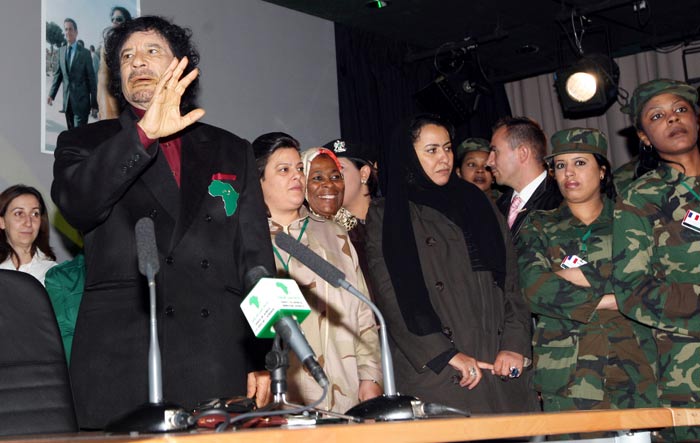 Muammar Gaddafi, surrounded by his female bodyguards, attends a meeting with female personalities, 12 December 2007 in Paris. (AFP Photo)
What are your thoughts? Please comment below and share this post!