President Donald Trump has fired the US Attorney General for not Defending his Immigration Orders
Trump fired acting Attorney General Sally Yates after she ordered Justice Department lawyers to stop defending the president's controversial immigration orders.
Sally Yates, who had been appointed by former President Obama, said she was "not convinced that the executive order is lawful".
A couple of hours ago she had sent a letter to the Justice Department Lawyers saying ""I am responsible for ensuring that the positions we take in court remain consistent with this institution's solemn obligation to always seek justice and stand for what is right. At present, I am not convinced that the defence of the executive order is consistent with these responsibilities."
The White House press office said in a statement that Yates "has betrayed the Department of Justice by refusing to enforce a legal order designed to protect the citizens of the United States."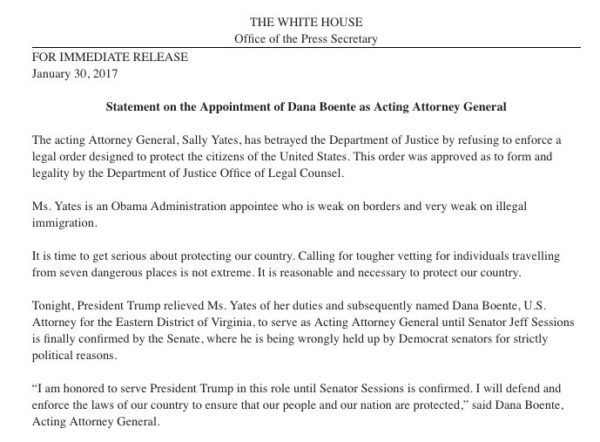 The statement called Ms Yates an Obama administration appointee "who is weak on borders and very weak on illegal immigration."
What are your thoughts? Please comment below and share this post!