Who will become Kenya's next president? Raila Odinga or Uhuru Kenyatta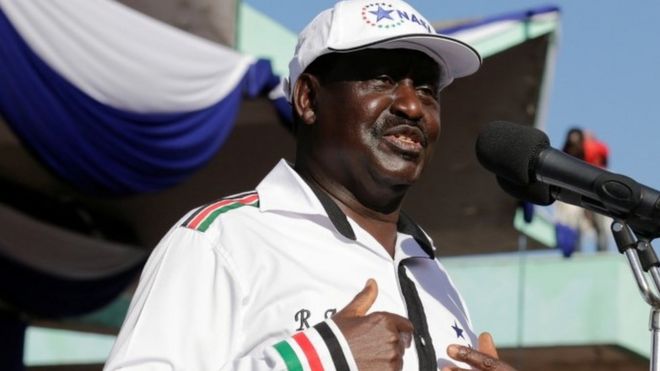 Kenya's veteran politician Raila Odinga has been confirmed as the main opposition coalition's presidential candidate for August's election.
Mr Odinga, 72, is set to face incumbent President Uhuru Kenyatta, the man who beat him in 2013.
This will be the fourth time Mr Odinga runs for president.
He also ran in the disputed 2007 poll. The violence that followed led to the creation of a unity government in which Mr Odinga served as prime minister.
Mr Odinga will represent the National Super Alliance (Nasa), which is a coalition of the country's main opposition parties including the candidate's Orange Democratic Movement.
Raila Odinga's nomination is not a surprise.
He has performed better than his rivals in opinion polls and has shown that he has wide support beyond his ethnic base in western Kenya.
Going into his fourth election, Mr Odinga is rehashing a strategy used in the 2002 campaign when opposition parties united to defeat Kanu, the party that brought Kenya independence.
As Kenya's President Uhuru Kenyatta seeks re-election, the dynamics ahead of the poll election could hardly be more different to four years ago.
Then, candidate Kenyatta was facing an indictment by the International Criminal Court (ICC) on crimes against humanity charges.
Things have changed so drastically that Mr Kenyatta almost felt compelled to remind his supporters what had changed when his Jubilee party launched its manifesto in June.
"They told us that the world will shun us, but today no country in the world avoids meeting the president of the republic of Kenya."
The US and British governments had warned Kenyans that it would not be business as usual if Mr Kenyatta and his deputy William Ruto, who was also facing crimes against humanity charges at the ICC, were elected.
During his presidency Kenya has hosted several international conferences and world leaders including former US President Barack Obama and Pope Francis came visiting.
In another triumph for Mr Kenyatta's diplomatic skills, he has mobilised many African leaders to put pressure on the ICC to the point of threatening to withdraw from the international court if it did not drop his and Mr Ruto's cases.
Both cases have now been dropped due to a lack of evidence, although the ICC says its prosecution witnesses were intimidated and says the cases could be resumed.
Please kindly comment below and share this post on your social media