Woman who was caged in a pick up driven by a white male is causing a stir in South Africa
Woman who was in a cage in a pick up driven by a white male is causing a stir in South Africa. The woman has asked for a ride and the driver put her in the cage.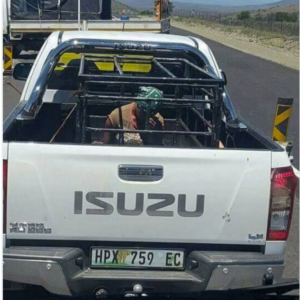 Bakkie caged woman speak:
A pregnant woman photographed in a cage strapped to the back of a bakkie said she was fine being confined in a sheep pen as it was extremely hot that day.
A photograph of the white Isuzu bakkie with Eastern Cape registration plates caused outrage when it was shared on social media on Thursday morning.
The picture of Linda Senekal, 27, of Zuurfontein, was taken on Tuesday. She caught a lift with Cradock farmer Johan Erasmus, 41, who admitted to driving the bakkie.
Speaking to HeraldLIVE just hours after the social media storm, Senekal – who is four months pregnant – said she needed a lift to a nearby clinic and asked Erasmus to drive her there.
"I didn't want to sit in the front of the bakkie because it was hot. I also didn't want to get hurt so I sat in the cage rather than anywhere else."
Senekal said it was normal for people getting a lift to sit in the back of the bakkie.
"Everyone who hitches a ride usually sits on the back … so it didn't seem strange to also sit in the cage," she said.
Earlier, Erasmus said he did not understand what he did wrong.
"Those people from the farms don't know about [sitting] in the front. They always jump in back. She asked me for a lift and I agreed. She jumped in at the back," Erasmus said.
Erasmus said the cage was a pen used to weigh sheep.
"I don't see it as a cage … I did not see anything wrong with her sitting in it" he said.
"She herself climbed into that thing and I dropped her off in Cradock."
Asked if he did not offer Senekal the passenger seat, Erasmus said she preferred to sit at the back of the bakkie.
Police spokeswoman warrant officer Louis Stone said it was premature at this stage to comment on the incident.
"No case has been opened or registered yet. Once the case has been opened, it will be investigated and statements will be obtained from both parties.
Please kindly comment below and share this post on your social media